What is a Principal Office Address?
When you form a new company in Utah, the required business address is called a principal office address. The principal office address for your business is the company's administrative address, and should be the street address of a physical location where your company can accept mail and store business records. It may or may not be where you maintain business hours and does not have to be in Utah.
Listing your principal office address is mandatory and this address will be made public as soon as your business is registered with the state. Some Utah businesses without a brick and mortar location list their home address as their principal address, compromising their personal privacy and professional image.
With Utah Registered Agent Service, you have the option to list our professional building address for your company at no extra charge. We own our building here in West Jordan where we efficiently and securely process mail daily. As your registered agent, we already accept your state and legal mail on your behalf so it only makes sense to provide our clients with an additional layer of privacy and security.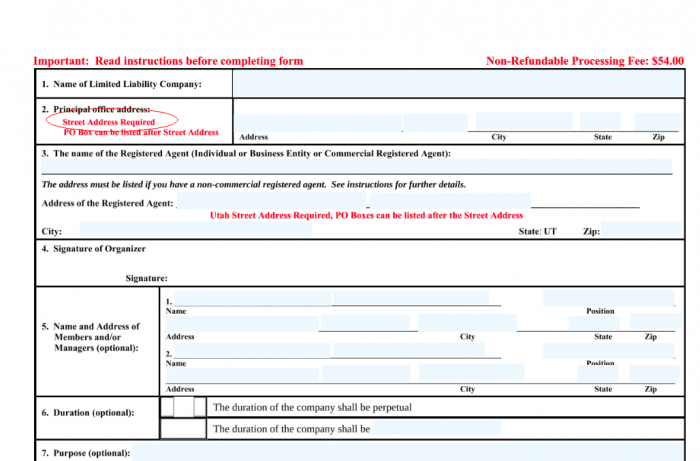 Benefits of a Utah Business Address
Using a professional Utah business address has several advantages, including:
Privacy and Safety.
This one's pretty straightforward. The internet is a big place and worst case scenario, it's not ideal to give the entire population access to your physical location and/or home address. Registered agents serve as the middleman in actual lawsuits, which is great, but there may be more to consider.
While registered agent service is built to handle service of process, today's social and business climate leaves space for more potential for negativity towards your business, your employees, or yourself & your family than just the legal proceedings. If you're listing your personal address rather than a separate business address for your company online, you're leaving yourself quite vulnerable in a modern world of scams, harassment, and doxxing.
Professionalism.
It's no surprise that most buyers research products/services/companies before buying, but just over half of consumers also report checking out the business's location before buying. When your potential/current clients search your business address as provided by us, they see a nice, new, professional office building in a desirable commercial area.
If you have a brick and mortar location with your own signage and branding, of course that's wonderful for clients to see. If you don't and are deciding between just using your home address, a PO Box or other postal service address, or an actual business address out of our commercial space, the image search results of our building provide instantly recognizable professionalism. See for yourself exactly what your clients will see when you use our address for your business.
Mail Filtering.
Not every business that forms with the state of Utah will have any issues with privacy and safety, but every new business that is listed on the public state record will be targeted by everything from annoying junk mail to misleading and fraudulent spam. Don't spend your time sorting through you mail trying to determine what is and isn't garbage. Let our team handle that, upload what's actually important, and shred/recycle the rest.
Streamlining and Convenience.
When all your important business mail is sent to the same location, sorted, labeled and stored online in a secure account, you save yourself time, space, and the stress. Imagine always having access to your most important business documents, no matter where you are. Our secure document storage is always available to you through your online account. Your documents don't expire or archive, and even if you cancel service or close your business, your account and documents will still be there for you to access if needed.
Address Services Comparison
While all of our business address option include these valuable basics, use the chart below to pick the right option for your business needs. Sign up for Utah Mail Forwarding alone or add on as an optional item when you sign up for registered agent or business formation services.
| | | | | |
| --- | --- | --- | --- | --- |
| | Courtesy Business Address | Mail Forwarding: 10 Scans | Mail Forwarding: 25 Scans | Unlimited Virtual Office |
| Secure Online Mail Storage | ✓ | ✓ | ✓ | ✓ |
| Same Day Digital Uploads | ✓ | ✓ | ✓ | ✓ |
| Junk Mail Filtering | ✓ | ✓ | ✓ | ✓ |
| Documents Processed | 3 annually | +10 annually* | +25 annually* | Unlimited |
| Unique Office Suite Number | | ✓ | ✓ | ✓ |
| Professional Office Suite Lease | | | | ✓ |
| Business Phone Service | | | | ✓ |
| Option to Rent Conference Room | | | | ✓ |
| COST | Free with Registered Agent Service | $49/year | $99/year | $19/month |
*Registered agent service includes processing of all state and legal mail, plus 3 additional documents annually.
Standard Business Address Usage: Included with $49/year Registered Agent Service
Perfect for simply protecting your personal privacy and professional image, the option to use our business address as your principal office address is included in with your $49/year registered agent service. When you use our address for your Utah LLC or Corporation, a lot of spam and junk mail will come our way. We'll filter that, shredding and recycling as needed. Junk mail does not count towards your ten document limit. Any of your regular state or legal notices intended for your registered agent also do not count towards the limit. The 3 document limit helps cover a few other things that may inevitably come to us and just provides a bit of a buffer for you without you paying anything extra.
Mail Forwarding: $49/year or $99/year
For $49 a year, get 10 regular mail documents, or for $99 a year, get 25 mail documents. When you have our registered agent service too, you also receive our initial 3 courtesy document scans. Our $49/year and $99/year mail packages will receive an individual suite number unique to your business that you can use how you see fit.  Utah mail forwarding is perfect for clients who want a professional image with their own site number, and will use the address for select clients or third parties, but don't expect to receive a lot of business mail.
Virtual Office: $19 month
Our premier Utah virtual office option adds all the professionalism of a physical office space for less than a single business lunch a month. Enjoy unlimited mail processing with same-day uploads and notifications, a unique suite number, a professional office lease with your suite number listed, business phone service, and access to rent our conference rooms should you need a physical space to host clients or meetings.
Get Your Utah Business Address through Utah Registered Agent
Our address services are exclusively available to and created for businesses, so if your company needs a physical, street address in Utah, we have a service to fit those needs. Our base level business address option comes included with our registered agent service.
Regardless of whether you select a paid Utah mail forwarding or virtual office package, or stick to the free, courtesy business address, our services were made with business owners needs in mind and are a savvy choice for many businesses.